What is the U.P. Food Exchange?
The U.P. Food Exchange (UPFE) is a Food Hub being led by the Marquette Food Co-op and MSU Extension in conjunction with the Western UP Health Department that coordinates and supports local food activities in Michigan's Upper Peninsula.  UPFE serves as a resource portal for farmers, businesses, and individuals looking to connect with and actively participate in their local food system.
Michigan Good Food Charter
The work of the U.P. Food Exchange is rooted in the Michigan Good Food Charter.  The Michigan Good Food Charter helps encourage decision and policy makers to support the growing of healthy, green, fair, and affordable food across Michigan.  An easy, yet public show of support for local food can be made by signing
on as a supporter of the Michigan Good Food Charter.
What is a Food Hub?
The National Good Food Network defines a regional food hub as a business
or organization that actively manages the aggregation, distribution, and
marketing of source-identified food products primarily from local and
regional producers to strengthen their ability to satisfy wholesale, retail,
and institutional demand.
Who runs the Exchange?
The Marquette Food Co-op and MSU Extension are responsible for day-to-day coordination of Exchange activities across the U.P. The Western U.P. Health Department serves as a point of contact for stakeholders in the western region and manages communication to and from the Exchange. The beauty of the Exchange is that it is not an organization but an extension of work already being done by the partner businesses and agencies.  The Exchange represents a visible collaboration of the local food efforts, activities, services and resources that the partners have been providing from the start.  All businesses and organizations involved in the Exchange play a role in ensuring its ongoing success through continued collaboration and shared responsibility.
Which region am I located in, and who do I contact to get involved in my region?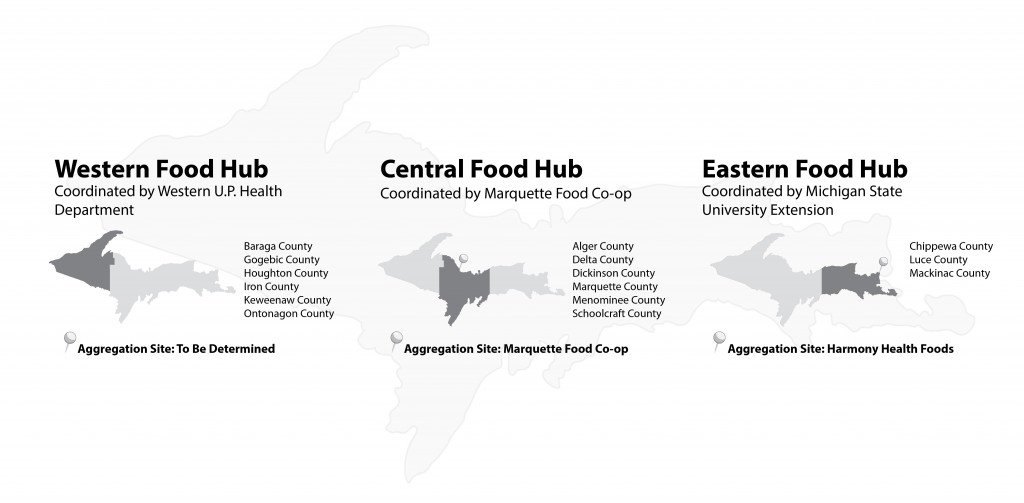 Central & Eastern Region
Sarah Monte, Outreach Director, Marquette Food Co-op
906.225.0671 x 723
smonte@marquettefood.coop
Western Region
Rachael Pressley, Assistant Regional Planner
Western U.P. Planning & Development Region (WUPPDR)
906.482.7205 x 116
rpressley@wuppdr.org
Check out what the Exchange has to offer. . .
Website
THE source of information for farmers, businesses and individuals
looking to connect with and actively participate in their local food system.
Get connected!
Food & Farm Directory
A dynamic online and print resource that is managed by Taste the Local Difference and searchable by farm, county, and product.
Online Marketplace
A website where farmers can list their products and institutions (restaurants, hospitals, schools) can purchase these products. It is free, easy to use, and includes a broad range of functions that allow farmers to spend more time focusing on raising great crops and makes ordering local food easier for institutional purchasers.  Aggregation, distribution, marketing, and relationship brokering services are available to all farmers and institutions using the marketplace.
Aggregation & Distribution Assistance
The Exchange has aggregation sites at the Marquette Food Co-op and Harmony Health Foods in the central and eastern U.P. respectively.  The Exchange is building relationships with distributors currently delivering in the U.P. to develop backhauling options for transporting local farm products within the U.P. and downstate Michigan.
Online Community Forum
A forum where people can post ads and connect with others from around the U.P. about food and farm related topics.
Community Education
Events, classes, and volunteer opportunities for those seeking a greater
connection to and knowledge about local food.
Food Summits
Meetings held annually in each region to help participants (all eaters are welcome) understand the local food system and provide face-to-face connections between people in all parts of the U.P.'s food system.
Speakers Bureau
A pool of knowledgeable speakers who can come talk to your group,
class, chapter, business or organization about a wide range of local food and
farming topics.
Newsletter
A monthly electronic newsletter called The Plowshare that contains updates from the regional hubs, information about up-coming events and opportunities to get involved in local food in your area.
Farmer Education & Training
Ongoing education, training, marketing and technical assistance support
to both established and beginning farm operations.